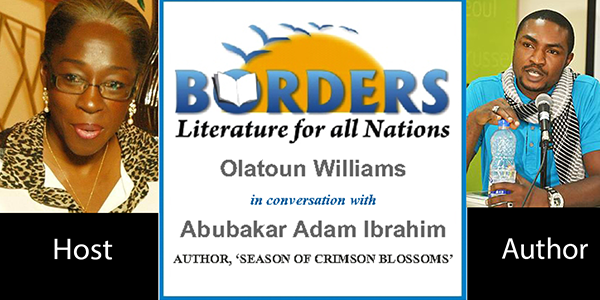 Abubakar Adam Ibrahim's first novel,"Season of Crimson Blossoms", won the 2016 NLNG Nigeria Prize for Literature. My Skype conversation with him is the first in a series of monthly Borders podcasts. The novel centres on a lower middle-class family resident in Jos, Plateau State, in the North Central zone of Nigeria. The action – and there is plenty- takes place in the aftermath of the Jos Riots which erupted in fits and starts between 2001 – 2011. The riots saw Muslim and Christian residents of the city in violent armed conflict and left multitudes dead and wounded and by the end of the decade, thousands homeless.
Though news broke across the country about Jos's riots, outside the Northern zones of the country, how much of this news did Nigerians take in? As a fictional history, "Season of Crimson Blossoms" is made especially poignant when we consider that while blood flowed on Jos streets, in one reader's words, Nigeria's attention throughout September 2001was focused on the Twin Towers of New York imploding, burning to ashes on our TV screens.
During the wide-ranging interview, I asked Abubakar whether there is a connection (as I've read), between the Jos Riots in which the forces of Islam were represented by ragtag gangs ofalmajiri boys with orders from "above", and the terrorism which has become part of the fabric of Northern Nigerian life. Join us!
Olatoun – Host, Borders Author Interviews