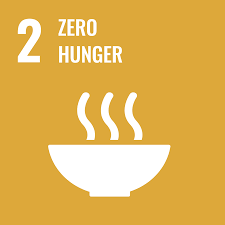 Hunger is a state of eating far less than the required quantity of food. It is also the state of a lack of food when there is a craving for it.
"Mummy I want to eat!" "Aunty, the food is not enough!" "What will the children eat?" "I have not eaten since this morning."
These statements dominate too many homes and communities in Nigeria. This simply shows abundant hunger, or lack of food. Zero hunger is just the opposite of this. A situation where everyone does not just have enough to eat but the required food to eat. Consider the scenario below.
Mr. Eze married two wives, Ngozi and Chioma. Ngozi has seven children while Chioma has five. With this family of twelve children and their parents, Eze is a wheel barrow pusher in the market, though he claims to have owned a provision store that gradually collapsed due to circumstances.
As at the time I packed into Mr. Ezes neighborhood his situation was already very pathetic. There was this incident that brought the whole thing to my knowledge. Ngozi and Chioma were seriously quarreling over who gets the larger share of Mr Eze little proceeds from the wheelbarrow business. The quarrel was prolonged and neighbors had to intervene.
Moving closer to them, I heard Chioma saying, "For the past five days I have not gotten up to a thousand naira from my husband, the whole money goes to Ngozi". "What about me?"shouted Ngozi. "Do you think he gives me millions? Tell us the truth. He gives you all the money. If it is the five or six hundred he gives to everyone you want to die for, eh, just go and die."
While this drama was going on, I took time to observe Mr. Eze's children. They were all looking unfed and sick. Chioma's last three children, age 2, 4, and 5, were gathered round a cup of garri, fighting amongst themselves as well. Ngozi's children meanwhile were lying around helplessly. You didn't need anyone to tell you that they had not had anything to eat. As the women argued with each other, dragging their children from all sides, they became so frustrated that they began to beat their hungry children. It took a long time to console the dejected, unfairly treated children and to calm the frustrated women.
Eventually I was able to ask them what the problem was.
"My husband came and gave her all the money and went away", said one of them- I can't remember which. "This is what has always happened in this house."
The other woman said, "The only problem here is that I don't know what she and my husband do with all the money he makes. Last night I got nothing at all." After a series of accusations and counter-accusations, I was at last able to ask them where their husband was.
"He came and went back," answered one of the women.
Why did he go back? I asked.
Ngozi quickly answered that he had given her the money na!
Chioma interjected, "Which money? Is it the 250 you mean? Tell us how much he gave you?"
"Nothing", Ngozi retorted. "If he had given me anything, would I send the children to him? Would I quarrel with him?"
At this time I was the only person left there. The others probably only came out of concern for the children and may have become used to these dramas by Mr. Eze's wives. I waited patiently for Mr. Eze, hoping he would come back and find me in his home. He returned 30 minutes later. By them I had stopped the wives from quarrelling. He entered the house looking as though he had been waiting for the quarrel to be over. He looked miserable and frustrated. You don't need to ask if the dread of the troubles at home kept him away or if he had been waiting for the women to stop their quarrel.
I took him aside to discuss with him.
Mr. Eze narrated how he had worked all day to make the N250 he gave to Chioma. That was all he had made that day. As a father, he felt for his hungry children and wanted to stay with them, but their mothers would not understand. All they were ever after was money for food for the children. He said he had not eaten all day because he wanted to make sure he could bring some money home. This happened often and at times he was even hungrier than his children. Whenever his wives began to quarrel, he felt miserable and defeated by life. In tears he said, "I know that my wives must be hungry too. I know that they may not really want to quarrel but a hungry man they say is an angry man."
Mr. Eze told me the situation had been going on for the past three years. When he told me how much money he owed just to make sure his family was fed, I was shocked. He told me about the kind of harassment he has received from creditors who sell on food stuff. He said that matters would get worse when he wanted to buy on credit and they refused. The worst part of his story were the health problems the children continually suffered as a result of malnutrition. What he didn't understand was that those who refused to help his family with money to feed well, were prepared to pay their hospital bills and buy drugs for the children when they were sick! He really didn't understand it. Whenever he tried to focus on the children, the other responsibilities like house-rent, would come up. He didn't want to talk about school because paying school fees meant that his family would not eat for weeks.
I am familiar with the story of the Mr. Ezes of this world. At school we have course mates that eat garri every single day and nothing else. Some steal other people's food to survive. Others break-down before exams. Others break-down during exams. Some fall sick and get hospitalized. It is always a very pathetic situation to watch very intelligent students fall victim to hunger.
Hunger has caused a lot of damage in our society. You can't think right when you are hungry. You lack patience and tolerance when you are hungry. You can't focus on anything when you are hungry. Hunger has caused a lot of broken homes, accidents and fights and hunger has wrecked a lot of potential and has even led to death.
Message to government I hereby call on the Nigerian government to focus on the crisis of hunger. I suggest that jobs should be created and agriculture invested in so that we can grow more food. I also believe that hard work should be appreciated and rewarded.
Vivian Omuji's The Truck Pusher's Tale is the winner of the 17 Stories project in the SDG Goal 2: Zero Hunger category